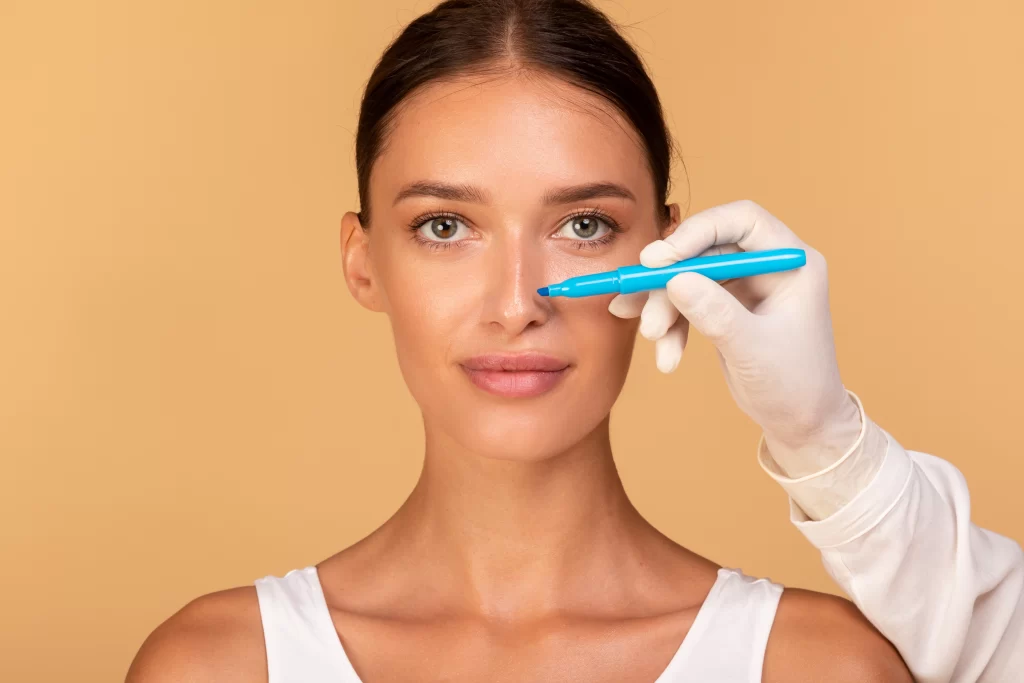 RHINOPLASTY PROCEDURES STEP BY STEP
Anesthesia: Medications are administered for your comfort during the surgical procedure. The choices include intravenous sedation or general anesthesia. Your doctor will recommend the best choice for you.
Incision: Rhinoplasty is performed either using a closed procedure, where incisions are hidden inside the nose, or an open procedure, where an incision is made across the columella, the narrow strip of tissue that separates the nostrils.
Reshaping the nose structure: skin of your nose will be separated from the bone and cartilage, afterward, the surgeon will reshape it as you desire by sculpting the bone
Closing incision: when the ideal shape has been achieved, the doctor will reposition the skin in its framework
HOW LONG DOES RHINOPLASTY SURGERY TAKE?
Usually rhinoplasty surgery takes up 2 hours though some complicated procedures may take longer
WILL I HAVE TO RECOVER IN THE HOSPITAL AFTER MY NOSE JOB?
No, if you want to you could get back home in the same day of your surgery
EXPECT BRUISING AND SWELLING AFTER NOSE JOB (RHINOPLASTY)

Rhinoplasty there is swelling and can be bruising , it is different for each patient, some people swell more or less than others, it depends on how your body reacts . the bruising will be around the eye area, as well as the swelling, you will also notice that in the first 24-48 hours after surgery, the swelling and bruising will increase, but it will get to its peak after 72 hours approximately, but they the 7th day, it will way down, with minimal discoloration from the bruises
RHINOPLASTY AFTER ONE WEEK
First week after rhinoplasty surgery is the hardest week, you will have cotton plugs in your nose, those will be taken out by third day, but for those days you have them on you will have to breathe through your mouth, which can be pretty uncomfortable. in addition to that, you will have on a splint, that comes off 7 days in your post-op follow up. after the cast and plugs come off it gets much easier
IS RHINOPLASTY PAINFUL?
Be prepared to feel some discomfort and perhaps pain after nose job. some bleeding from the nostrils is also expected to happen within the first several days after the nose job procedure which is completely normal, it stops after the first 5 days. the doctor will give you some prescribed pain medication to lessen the effects
EXERCISE AFTER NOSE JOB
Exercising after Rhinoplasty until your doctor tells you are discharged completely, then you may, not before. within the first 3-4 weeks avoid working out; you are still in the healing process, and doing any type of exercise can cause your recovery process to get prolonged, you expose yourself to getting hurt.
POST-OP RHINOPLASTY PROCEDURE VISIT
Doctor will take off the splint on this visit, also if you'd an open rhinoplasty, stitches would need to be removed, those would also come off in this visit. After the splint has been removed and everything is good, the doctor will place some micropore tape which will remain on for a week. in tis visit, make sure to ask your doctor any and all question you have, about any sensation you've had
PATIENCE
You will need patience throughout this whole process, you will get an idea of what your final results will be like within the first few weeks, however, it can take anywhere from 6 months to a year for your nose to look as normal as you would like it to be. there might be some numbness, sometimes even blemishes, the tip of the nose will be swollen, it doesn't mean that you'll look bad or not presentable, but the results will take almost 12 months due to internal healing
DO YOU HAVE SOME EXTRA TIPS FOR RHINOPLASTY FASTER RECOVERY?
Some extra recommendations we give to our patients for a rhinoplasty recovery time faster, are the following: